The RECOLAND Project squarely builds on its predecessor, the ProLAND project, which was financed by the Dutch Ministry of Foreign Affairs.
The ProLAND project assists the Chinese government in research, training and advice for the establishment of a national cadastre. The registration of property rights has become a high priority as the Chinese Communist Party aims to allow the free transfer of rural land. In the process, poor farmers may risk losing their land and assets, which necessitates a careful and gradual implementation of titling.
Minister Jacqueline Cramer and Secretary General (Vice Minister) Hans van der Vlist of the Dutch Ministry of Housing, Environment and Spatial Planning (VROM) visited the ProLAND project in November 2008. During her visit, Minister Cramer witnessed the signing of a Memorandum of Understanding between the Dutch Cadastre and the Chinese Ministry of Land and Resources. Secretary General Hans van der Vlist also visited ProLAND's research base in Nanjing, and was briefed about the project's recent achievements.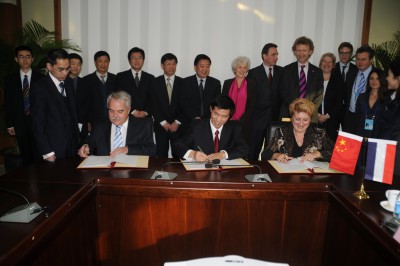 Signing of the MoU. From left to right: Prof. Peter Ho, then Director of the Groningen Centre for Development Studies; Prof. Koos Duppen, Vice-President of Groningen University, Zhou Jianchun, Director-General of the China Land Surveying and Planning Institute, and Dorine Burmanje, Chair of the board of the Dutch Cadastre. In the back: Vice Minister Wang Shiyuan (middle) and Minister Jacqueline Cramer.