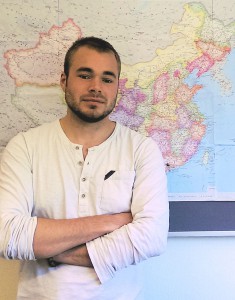 Kees Krul has a background in Human Geography and obtained his master degree in Asian Studies at Lund University, Sweden. He has lived and worked in various countries including South-Korea, South-Africa, the Philippines and China. After a year studying Mandarin in Beijing and interning at the Beijing office of Landesa, Kees is now working with the RECOLAND project looking at the institutions of forest tenure in China.
Education:
2015 – 2016 Intermediate Chinese, Beijing Language and Culture University (China)
2013 – 2015 MSc Asian Studies, Lund University (Sweden)
2014 Exchange semester Agriculture Extension and Rural Development, University of Fort Hare (South-Africa)
2009 – 2012 BSc Human Geography, University of Amsterdam (The Netherlands)
2011 Exchange semester International Studies, Korea University (South-Korea)
Publications:
Krul. K. and Ho, P. (2017). "Alternative Approaches to Food: Community Supported Agriculture in Urban China" Sustainability 9(5).
Krul. K. (2016). "Preserving Bang Krachao's Green Space through Agriculture" Asia in Focus 1(2), pp.25-34.
Yusuf, SFG, Krul, K., and Marufu, G. (2016). "Representation of Agricultural Issues in South African Newspapers: A Content Analysis" Journal of Communication 7(2), pp.287-295.
Krul, K. (2015). "China's Boeren Zonder Land", Rooijlijn.
Krul, K. (2014). "From Agent to Principal: Marginalization of Farmers in China's Land Regime" (conference article presented at plenary session at AEASA 2014, Port Alfred). [submitted article awarded as conference's best article].
[ngg_images source="galleries" container_ids="4″ display_type="photocrati-nextgen_basic_thumbnails" override_thumbnail_settings="0″ thumbnail_width="240″ thumbnail_height="160″ thumbnail_crop="1″ images_per_page="20″ number_of_columns="0″ ajax_pagination="0″ show_all_in_lightbox="0″ use_imagebrowser_effect="0″ show_slideshow_link="0″ slideshow_link_text="[Show slideshow]" order_by="sortorder" order_direction="ASC" returns="included" maximum_entity_count="500″]